This is an archival website. To visit our current website, please click here.
Past Competitions: 88th, 87th, 86th

Entries have now closed for the 89th Annual International Competition. Notifications have been sent by email to all entrants. Thank you!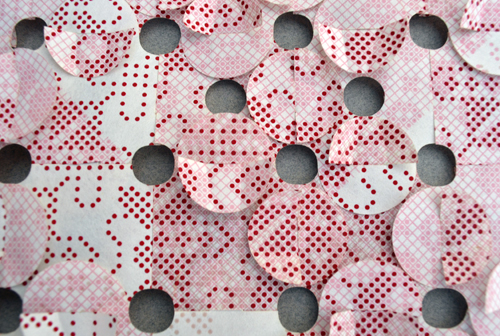 Denise Bookwalter , 88th Annual International Competition Solo Exhibition Winner
89th Annual International Competition


FINALISTS
J.L. Abraham (New York, NY)
Monika Brzegowska (Tuchów, Poland)
Alexander Harding (Wallingford, CT)
Lucas Hearne (Wakefield, RI)
Cheryl Medow (Santa Monica, CA)
Ardine Nelson (Columbus, OH)
Maggie Preston (El Cerrito, CA)
Amy Ritter (Philadelphia, PA)
Keith Sharp (Media, PA)
Tamsen Wojtanowski (Philadelphia, PA)
Ken Wood (St. Louis, MO)
SEMI-FINALISTS
Ben Altman Danby (Spencer, NY)
Miguel A. Aragon (Brooklyn, NY)
Brian Artigue (Philadelphia, PA)
Chris Bennett (Portland, OR)
Marc Blumthal (Philadelphia, PA)
Amze Emmons (Philadelphia, PA)
Aline Feldman (Columbia, MD)
Kevin Frances (Boston, MA)
Gesine Janzen (Bozeman, MT)
Ashley Jones (Savannah, GA)
Jay Muhlin (Philadelphia, PA)
Rebecca Najdowski (Berkeley, CA)
Thom O'Connor (Voorheesville, NY)
Diane Pepe (Philadelphia, PA)
Nicole Pietrantoni (Walla Walla, WA)
Jake Reinhart (Pittsburgh, PA)
David Ricci (Lee, MA)
Paul Rider (Philadelphia, PA)
Miguel Rodriguez (Philadelphia, PA)
Mark Sawrie (Muncie, IN)
Inbal Volpo (Oranit, Israel)
Mark Wlaz (Sanibel, FL)
Sang-Mi Yoo (Lubbock, TX)
Jurors
Dan Byers, The Richard Armstrong Curator of Modern & Contemporary Art, Carnegie Museum of Art, Pittsburgh, PA
Tina Kukielski , Curator, Hillman Photography Initiative, Carnegie Museum of Art, Pittsburgh, PA
Byers and Kukielski were on the curatorial team of the 2013 Carnegie International.

Awards + Prizes
Two solo exhibitions at The Print Center to be held April-July 2015, Online exhibition, Philadelphia Museum of Art Purchase Award, Two-year contract from The Print Center Gallery Store, and up to $3,000 in other purchase, cash and material prizes.
About the Competition
The Print Center's Annual International Competition is one of the most prestigious and oldest competitions in the United States. The Print Center is particularly interested in highlighting local, national and international artists who utilize photography and printmaking in intriguing ways, both in content and process. Artists who use printmaking and/or photography as critical components of their work, or whose work pushes the boundaries of traditional photographic and printmaking practices, are encouraged to enter.

Your entry fee to the competition also includes a one-year Artist Level Membership to The Print Center.
Eligibility
All artists using photography and/or printmaking as critical components in their works can enter. Work submitted must have been completed in the last three years. Submitted works cannot have been exhibited within 50 miles of Philadelphia or in any prior exhibition at The Print Center. Up to five images may be submitted and only one submission per person is allowed.

Accepted formats:
Images: Up to 5 MB/each: jpg, png, gif
Videos: Up to 60 MB/each: mov, wmv, flv, mp4

You will be asked to label each uploaded file with Title, Date, Medium (e.g. etching, inkjet, gelatin silver, lithograph) and Size (paper size, video duration or installation size).
Online Exhibition
An online exhibition will be mounted on The Print Center's website with the images submitted by semifinalists, as well as biographical information and links to the artists' own websites. Ten finalists will have more extensive information on the site, including additional images (Artists will be contacted by The Print Center for additional information and images).

Solo Exhibitions
Two artists will be selected from the ten finalists to receive solo exhibitions at The Print Center. Those artists will receive a $200 honorarium (Pending funding, especially for international artists, this amount could increase). Artists are responsible for delivering or shipping their work to and from The Print Center and all related costs, including framing when appropriate. The Print Center will install and de-install work.

Click here for a floor plan of The Print Center.


About the Jurors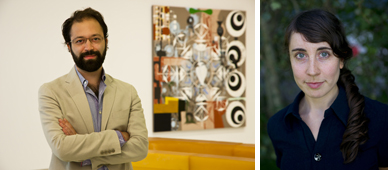 Dan Byers and Tina Kukielski (with Daniel Bauman) were co-curators of the 2013 Carnegie International, a museum-wide exhibition that brought together 35 artists from 19 countries alongside special projects investigating the history of experimental playgrounds, the museum's collection, and an event series called Apartment Talks, ath the Carnegie Museum of Art, Pittsburgh, PA. Byers is The Richard Armstrong Curator of Modern and Contemporary Art at the Carnegie, where he oversees exhibitions, public programs, and collections initiatives. Exhibitions he has developed for the museum include solo shows of Cathy Wilkes, Ragnar Kjartansson and James Lee Byars, as well as the group exhibitions Reanimation, featuring William E. Jones, Joachim Koester, and Nashashibi/Skaer; and Ordinary Madness, a large-scale, wide-ranging show drawn from the Carnegie's collection of contemporary art. Kukielski holds the newly appointed position of curator of the Hillman Photography Initiative, overseeing the initiative's website, its programs and commissioned projects, and two artist publications to be released in 2015. She formerly held a curatorial position at the Whitney Museum of American Art, New York. She has organized solo museum exhibitions with artists Cory Arcangel, Sadie Benning, Omer Fast, Taryn Simon and Sara VanDerBeek among others.

Calendar
Entry Deadline: October 31, 2014
Notification (by email): January 30, 2015
Solo Exhibitions: April – July 2015
Online Exhibition Dates: April – December 2015

Sales
The Print Center will facilitate sales for the solo and online exhibitions of the Competition. The Print Center will receive a 50% commission on works sold. A pricelist will be made available in the gallery. The Print Center will pay the artist's commission within 90 days of the close of the sale. Payment will be made by check and will include a statement listing work sold and the purchaser (if available).

Liability
The Print Center is not responsible for damage to work during shipping or delivery, although care in handling onsite can be assured. Works will be insured against fire and theft while on The Print Center's premises.

Copyright & Usage
The Artist reserves all rights to the reproduction of his/her works of art on loan, unless he/she has specified to the contrary. Notwithstanding the above, The Print Center may use images of the works of art for the sole purpose of publicizing and promoting the Artist's work in newspaper and periodical advertisements and articles, brochures, The Print Center's website, and other such means. In every instance of such use, the Artist shall be acknowledged as the creator of that work. For all reproductions a credit line should be included: "Courtesy of the Artist."

Mission
The Print Center's mission is to support printmaking and photography as vital contemporary arts and to encourage the appreciation of the printed image in all its forms. The Print Center presents a variety of programs for the public including exhibitions; an extensive series of education programs and special events; the longest running Annual International Competition for prints and photographs in the country; and The Print Center Gallery Store, which offers the largest and most diverse selection of contemporary prints and photographs in Philadelphia.

Contact Information
Please direct questions relating to the competition to: info@printcenter.org