CURRENT EXHIBITIONS
Upcoming Exhibitions
Past Exhibitions
Exhibitions Available for Travel
2015

January 23 – March 28, 2015

Jessica Todd Harper: The Home Stage
Denise Bookwalter: The Knitter's Hand and the Telegrapher's Fist

Opening Reception and Gallery Talk
Thursday, January 22, 2015
Gallery Talk: 5:30 pm
Opening Reception: 6:00-8:00 pm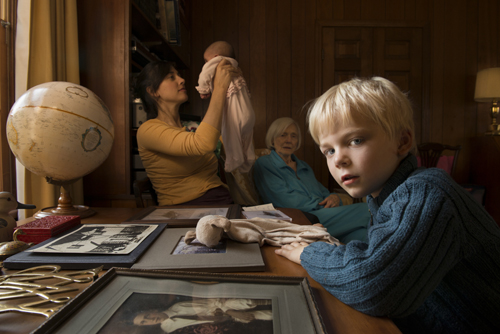 Jessica Todd Harper, Marshall with Family and the World, 2013

Jessica Todd Harper: The Home Stage
The Print Center opens its Centennial year with Jessica Todd Harper: The Home Stage, the first solo exhibition in Philadelphia by the renowned photographer, who lives in Merion, PA. The exhibition coincides with the release of her second monograph of the same name (Damiani Editore).

The Home Stage continues Harper's photographic investigation into her own life and extended family, as well as the families of friends and other acquaintances. In many of her images we see Harper with her three young children and husband in scenes that writer Alain de Botton describes as showing "ordinary life in the family, an especially poignant subject, because marriage and life with children are always buffeted and frustrated by inescapable difficulties." Harper herself has said that the work grew out of an "overwhelming sense that when we became parents, Chris and I had entered into an alternate and strange world."

Harper's figures are captured in images suffused with gorgeous light recalling the work of painters from other centuries, including Whistler, Sargent and Vermeer. Photography curator Alison Nordström has written that while Harper's works are "casual in their framing, composition and content, they offer the initial impression that the viewer is a fly on the wall, accidentally observing the most intimate of interactions. In fact these images are carefully thought out, planned, and constructed." The Home Stage presents a world that is both deeply personal and deftly orchestrated.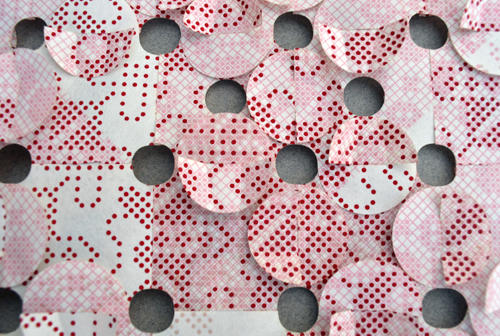 Denise Bookwalter, Fair Isle Knits (detail), 2013

Denise Bookwalter: The Knitter's Hand and the Telegrapher's Fist
Denise Bookwalter: The Knitter's Hand and the Telegrapher's Fist brings together new prints and artist's books by the Tallahassee, FL based artist who is the Director of Florida State University's new artists book press, Small Craft Advisory Press. Bookwalter's works come out of her extensive research into a wide range of topics, from experimental machines to origami, and take experimental forms based on book structures and packaging.

Bookwalter's practice is noted for its intriguing and unexpected approaches to the forms, structures and processes related to book making. Her diverse approaches in recent works have included burning text into the page, creating 3-D models within the pages of a book and utilizing modular systems to construct complex works. At the same time, Bookwalter's work involves exhaustive research into highly specific subjects, including the biographies of almost-forgotten early aviators. "The disregarded records, figures or facts," Bookwalter says, "merge and become the atypical moments that facilitate my knowledge of materials, technology and objects. These moments nourish intuition and lead to invention. The combination of research, information and play is the subject of my work." The title of the exhibition refers to the translation of instructions and codes into handmade objects. "Knitters follow coded knitting patterns but each hand will produce a slightly different object," Bookwalter says, "When sending telegraphs each operator had a distinct style called the telegrapher's fist. It is the variation of the human hand in interpreting these codes and languages that inspire my work for this show."